6 Motion Control Technology
This washing machine comes with the innovative 6 Motion Direct Drive technology that optimizes the motion of the wash drum depending on the type of fabric being washed. This helps the washing machine deliver a powerful washing performance along with clothes that have been thoroughly cleaned.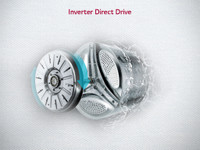 Inverter Direct Drive
The washing machine's motor is directly connected to the wash drum. This not only reduces the noise and vibration while the washing machine is in operation but also makes it durable and long-lasting.